An Historical Modernization
Deep in the heart of the Old Cambridge Historic District in Cambridge, Massachusetts, a stately, center-entrance Mansard was built in 1857 contiguous to the original Longfellow estate. We were honored that a family we've worked with on numerous projects over the years asked us to transform this building, listed on the National Register of Historic Places, into a welcoming home. We knew with some creativity and close collaboration we could create inviting spaces that would support their lifestyle and reflect their taste in design.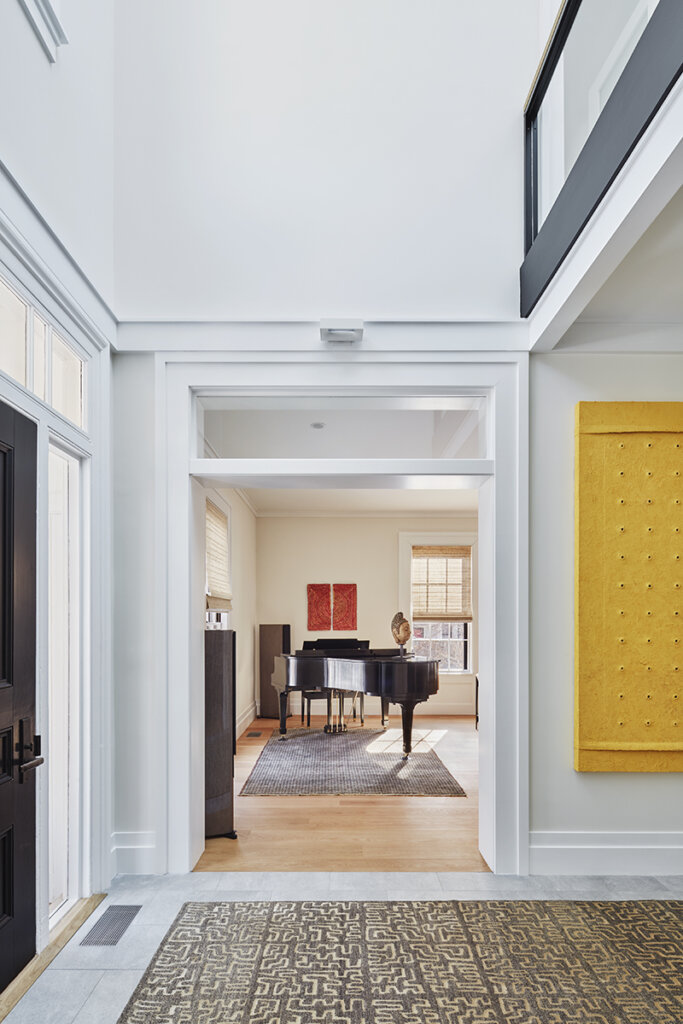 As the architects developed the overall plans and vision to transform this historic home, we were able to build on an intriguing spatial foundation. Our scope included designing every interior space and articulating each finish material, selecting lighting fixtures, and creating bath designs. As the space changes in scale—one enters the house through a small entry airlock and moves through a center core rising three floors with a glass skylight stretching overhead—we focused on creating tones and textures to keep the space grounded and inviting.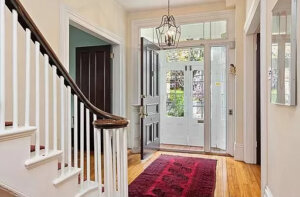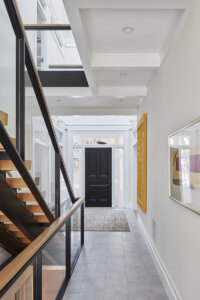 Almost all the furnishings were designed and provided by Gilberte Interiors. All bath fixtures, vanities, counters, and tile were selected and delivered to the site, ready for installation. Door hardware was created with a new minimalist design, all cast bronze. Our in-house workrooms fabricated all upholstery, window treatments, and bedding. We developed designs for custom cabinetry and furniture and oversaw each step of the process from schematic sketches to completion. Even accessories—throws, tabletop, bath—were all sourced and sought out meticulously, from longtime favorite artists to intriguing new creators.
Our clients mentioned they had read about a group of artists in the Hudson Valley in New York. Having been introduced to the work of Chris Lehrecke years ago at a Pucci exhibit in New York City, we brought him on to produce a few of the custom pieces of furniture and lighting, and it was such a pleasure to be able to go back to an artist whose work had caught our eye years ago.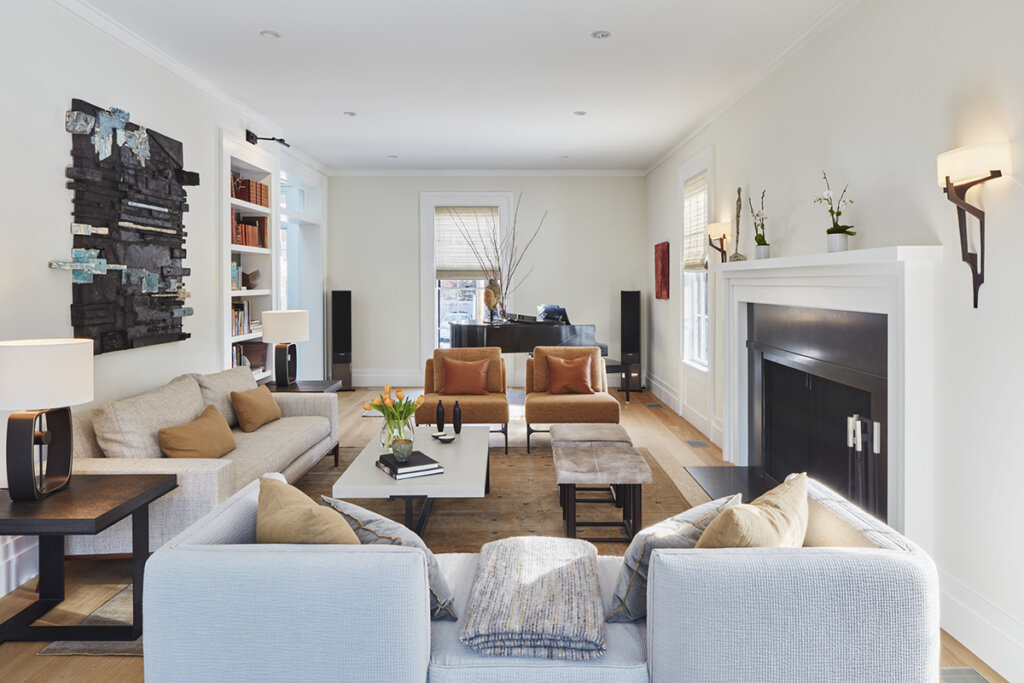 The living room is an excellent example of the level of care and detail we invest in our projects. This was a space transformed to create depth and interest, as well as a sense of welcome and relaxing comfort. We mixed newly woven rugs with one outstanding vintage piece to give the space a more gathered feel. The tables are a combination of hand-forged iron and coated linen or crisp grained wood. We chose white walls, relying on texture and tones to create a lived-in feel, while handcrafted lamps and accessories punctuate the spaces.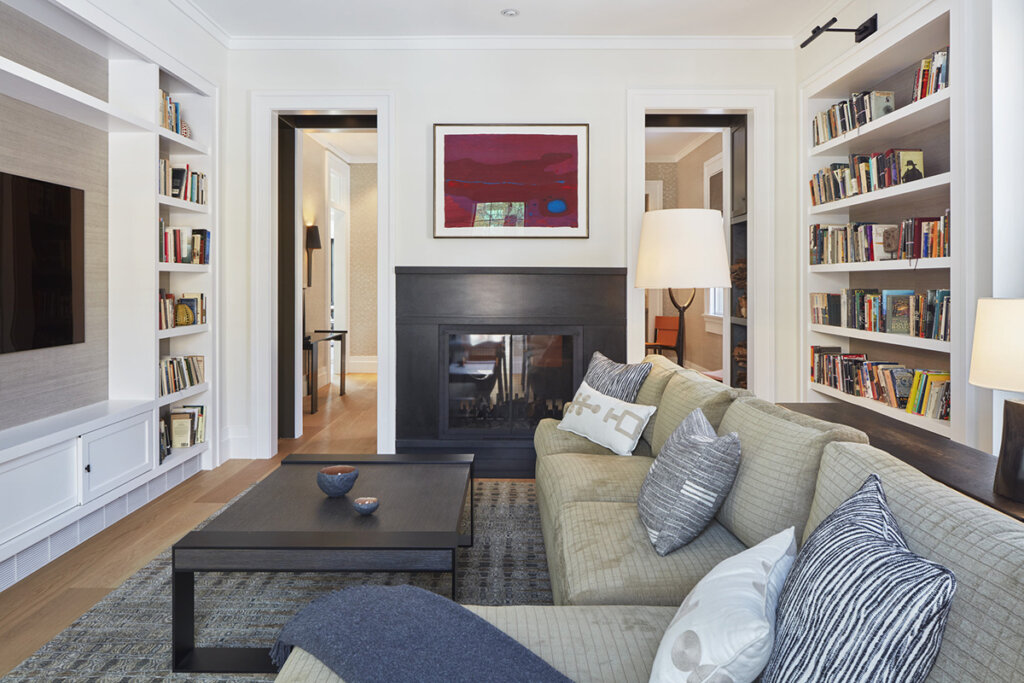 With the home's crisp architecture and soaring spaces, we wanted to add depth and texture in innovative and subtle ways to establish a welcoming sense of tranquility throughout. To this end, we worked with hand-created plaster wallcovering designs and lined the back of the bookcases with different wallcovering materials. All the finishes, design elements, and lighting also highlight this family's growing art collection, taking great care to enhance each piece without distracting from them.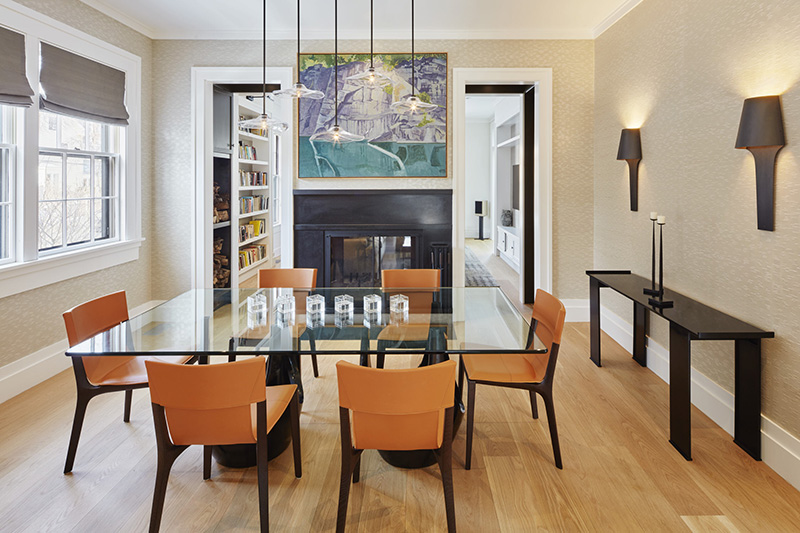 In the dining room, we created a table that stands in a somewhat small space from two hand-crafted bronze sculpted bases, giving weight to the center of the room, but then added a thick glass top. A chandelier crafted from handblown glass pieces floats above, and orange, slim leather chairs add a punch of color to give the space interest. The result enables those enjoying the space to feel relaxed and comfortable in a space that is also a key intersection with four different access points.
This level of detail and meticulous delivery took time. Especially with additional challenges from the pandemic. But the results of two plus years of working closely with the clients, Moskow-Linn Architects, Matthew Fisher Builders, and many other designers, builders, and tradespeople are stunning. They key is that we all work exceptionally well together, with each bringing their own expertise, experience, judgement, and trust to the group. A complete renovation of this length might have easily slid off course, but we stayed true to the project through weekly online meetings supplemented with site visits to ensure we achieved the best possible solutions. The Gilberte Interiors team worked together to keep decisions and selections well documented—the tracking of materials, plumbing fixtures, lighting fixtures, and furnishings became a more crucial step when supply chain shortages and transportation delays became a challenge.
We also want to thank Jane Messinger for the great photos of the finished home.